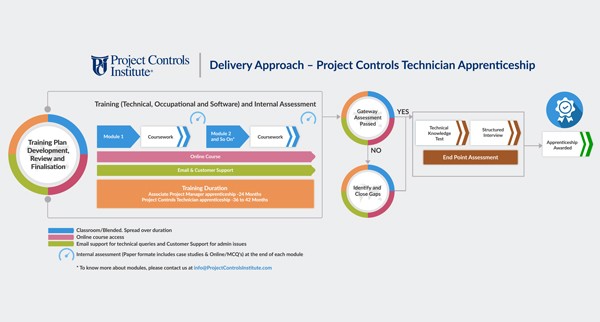 In this post, We are attempting to offer an overview on upcoming Project Controls Trailblazer Apprenticeship based on knowledge which comes from our engagement in the development of this standard.
The Project Controls Technician Apprenticeship (Level 3) that is part of the Government's Trailblazer programme that aims to establish new standards for apprenticeships and is committed to reaching three million apprenticeship starts in England by 2020. has been developed by an employer-led working group consisting of Project Control leaders from 40 organisations that deliver complex projects across engineering, energy, infrastructure, construction and manufacturing sectors. Professional bodies such as ACostE, APM, IRM and CICES have also contributed to the development together with training providers and academia
The standard and assessment plan are ready to be delivered and used and have been fully approved by the Minister of State for Skills at the Department of Education, giving the green light for the launch of the apprenticeship in Q3 2017. A funding band (core government contribution which is currently capped at £21k per apprentice has been assigned to the standard.
In beginning to promote the apprenticeship, we have found that employers have a positive approach to the Project Controls Technician apprenticeship but are not sure who to engage with to get started, how to achieve a return on investment against the new apprenticeship levy and how best to establish Project Control apprenticeships and use the flexibility in the way the programme can be configured to meet their requirements for a viable programme that at the same time satisfies the mandatory criteria required by government.
Project Controls Institute being an approved training provider (via our parent org) for this Apprenticeship has created a dedicated KB offering options to guide employers in the right direction to provide a sure start for training your Project Controls apprentices. Based on our professional knowledge, we have also devised the unique delivery approach to offer this training to our clients which can be seen on our website.
Finally, we will be offering further insight on this topic at Project Controls Expo in Masterclass, supported by Employer, ECITB and possibly some government representation (SFA/DoE). If you any questions in the meantime, feel free to contact us at info@ProjectControlsInstitute.com