Is PCI an accredited training provider?
Why should I choose PCI over other training organisations?
PCI is world's first and most unique Project Controls learning platform with its courses mapped to wide range of global certifications
• PCI is "one stop solution" for all project controls training
• PCI courses are crafted by industry experts who helped Governmental and Professional bodies to draft their national standards and certifications
• PCI's online training is creative, engaging, interactive, and self-explanatory
• Each course of PCI has knowledge check questions and assessment to check the depth of understanding
• PCI equips you for operations and excellence in the real world and prepare for the likely challenges you will face once back at your desk
• PCI offers learning via pre-recorded courses, virtual on-demand delivery and in traditional 1:1 classrooms.
• PCI provides access to the free wealth of knowledge via PCI library and forums
• LinkedIn account of each student is endorsed by PCI as a distinction of course completion
I can't Find my course ?
If you have purchased a course and it is not showing up in "Enrolled Courses" section, try the following suggestions:
a. login to the PCI, next to Enrolled courses click on 'View all' to access the purchased courses .
OR
b. After login, on the left-hand side panel dashboard, click on 'My Courses' section and see all the courses.
Recommend browsers
We recommend using any of the following browsers:
PC (Personal Computer): -
a. Internet Explorer 11
b. Firefox
c. Google Chrome
d. Microsoft Edge
MAC: -
a. Firefox
b. Google Chrome
c. Safari
Tablets: -
a. iPad: Safari
Android: -
a. Google Chrome
Failed Course Purchase
If you have encountered an error while attempting to purchase a course, then one of the following steps should resolve the problem, so you can enrol and start learning!
a. International Cards - Your bank or account may not be set up for international purchases (we are in the United States). Try a different card or try using PayPal; or, try using our mobile app.
b. In the UK or Canada? Enter your Post Code in the "Zip Code" field. If your payment failure states it is due to zip code, contact your bank to ensure they have the right one on file. If zip codes are not applicable in your country, please try entering all zeros (00000) into the zip code/postal code field.
c. Incorrect Information - Make sure that your card number, CVV/security code, and expiration date are entered correctly. Please note, copying and pasting card information will not work.
d. Cache Issues - If you are sure you are entering the right card number and it is still telling you it looks invalid, or the 'pay' button isn't showing up, there may be a caching issue. Please clear your cache and try again.
Video Playback Issue
If the video course is not loading, try the following steps to resolve the video loading issues:
A. Refresh your browser.
B. Clear your browser's cookies and cache. Be sure to restart your browser before trying again.
C. Please check whether flash player is installed in the browser.
D. You may check whether flash player is install or update by clicking here.
E. Click here to update and install flash player as per your Operating System.
Send a Message to the Instructor
If you have already been enrolled in the Course.
You can message an instructor from the course dashboard:
1. While studying, courses, you will find 'comment' tab on the Menu Bar,
2. Click on this 'Comment' tab,
3. Click on 'Add a Comment',
4. Compose a message and click on 'Comment' tab for submission.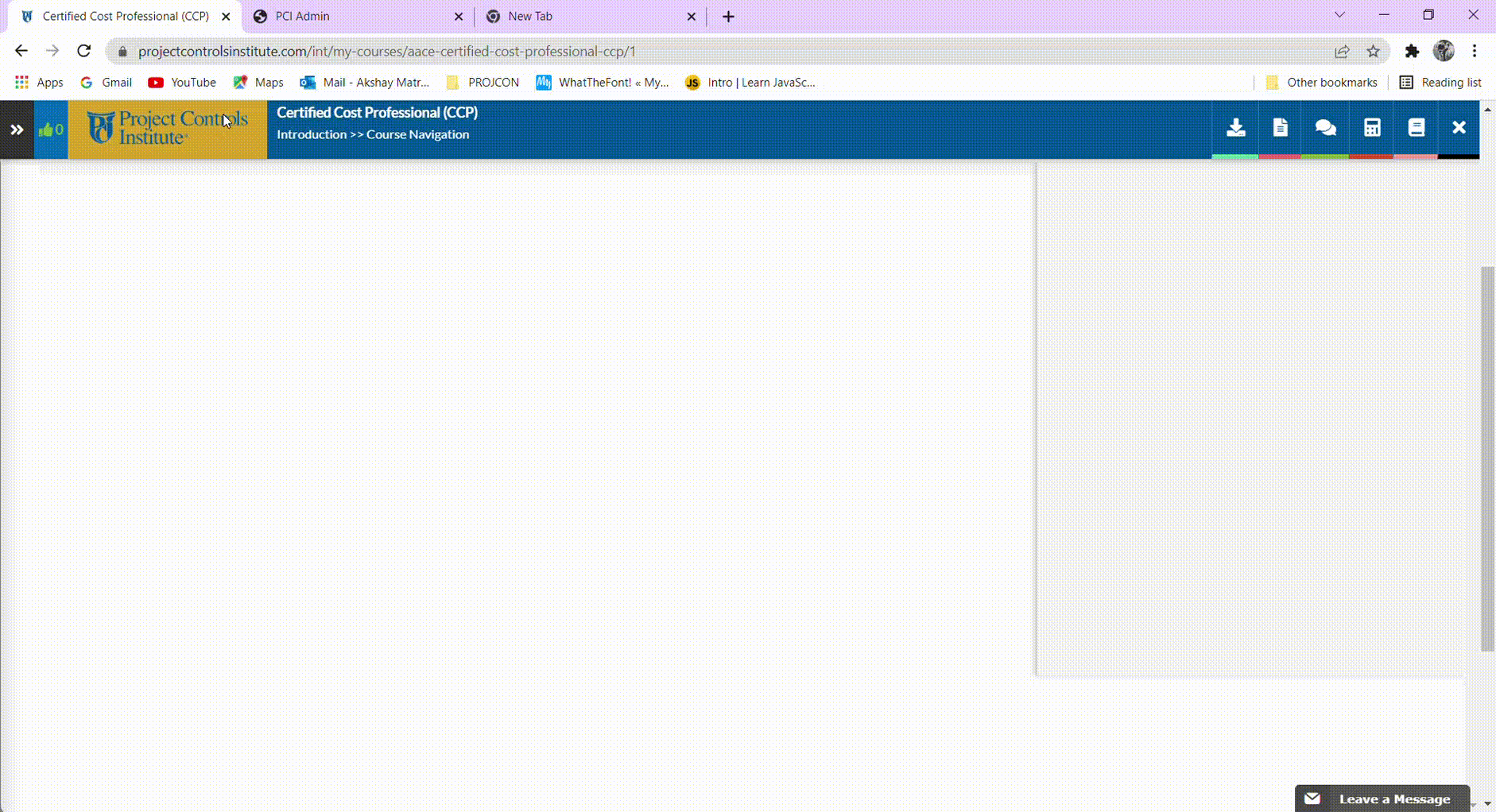 How to buy a course?
Following are key steps to buy the course:
A. Login will take you to "My Dashboard" Page
B. Click on View/Buy Course
C. Select the type of package (Bronze, Silver or Gold)
D. Add the course to the cart
E. Select other courses (in case of multiple course purchase)
F. Go to view cart
G. Enter coupon code, if any
H. Proceed to billing
I. Proceed with payment
J. Purchase invoice will be sent to your email
Can PCI customise courses based on Corporate Client needs?
A. Go to PCI website www.projectcontrolsinstitute.com
B. Click on 'Contact' tab
C. You can send us a message by updating the requisite details inter alia includes Name, Email, Phone, Subject, Descriptive message etc. and submit it by entering captcha.
D. PCI will contact you within 7 days from the date of submission.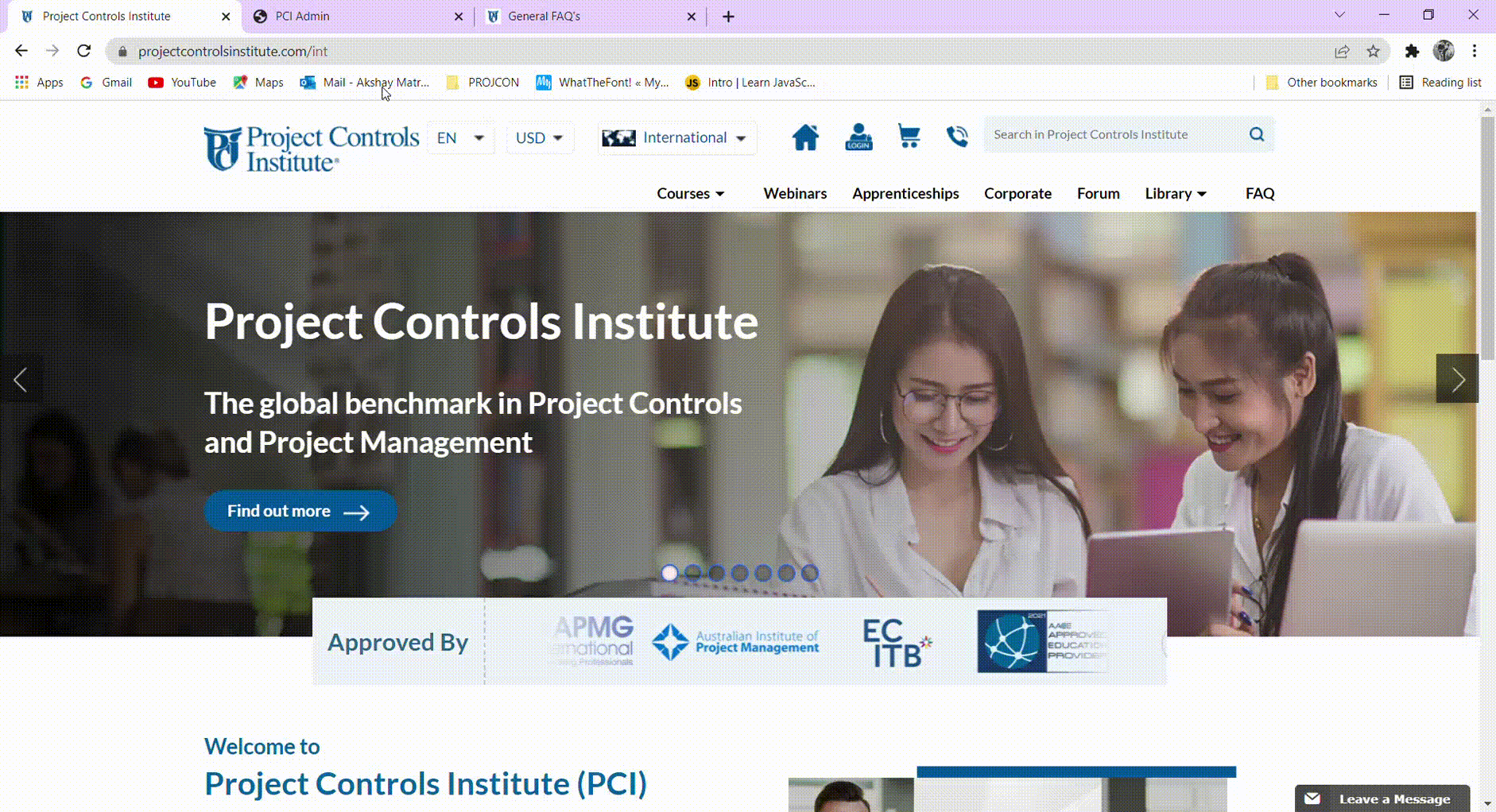 Do you offer PDU or CEU ?
We offer CEUs – 1 CEU equals 10 PDU's. For each 10 hours of training with us, we will get you one CEU which is equal to 10 PDU
The Continuing Education Unit (CEU) is a nationally recognized measure of participation in an approved non-credit continuing education program. One Continuing Education Unit (1.0) is defined as: Ten contact hours of participation in an organized continuing education experience under responsible sponsorship, capable direction, and qualified instruction.
The Professional Development Unit (PDU) was established by PMI as the educational metric for project management educational activities. One PDU is earned for each contact hour spent in structured learning, which is relevant to project management. For conversion purposes, one (1) CEU equates to 10 PDUs